Product Description
Introducing our exclusive Pashmina Beaded Fringe Scarf, a meticulously hand-loomed masterpiece crafted by skilled artisans. The pashmina fabric is renowned for its softness and warmth, making it the perfect companion for chilly days and cool evenings.  This specialty scarf presents a timeless interpretation of the beloved wardrobe staple, offering a touch of elegance and sophistication to any ensemble. 
Elevate your style, exude confidence, and make a lasting impression with this exquisite scarf that effortlessly combines tradition and contemporary flair. Experience the perfect blend of elegance and warmth, and embrace the beauty that lies within this exceptional piece.
Available in a captivating array of elegant colours, our Pashmina Beaded Fringe Scarf allows you to express your unique sense of fashion. Whether you prefer classic neutrals or vibrant hues, there is a shade to suit every occasion and mood. Each colour is carefully selected to complement a wide range of outfits, making this scarf a versatile and essential accessory for your wardrobe.
One of the distinguishing features of this scarf is the exquisite beaded fringe. Delicately crafted, these beads add a touch of glamour and playfulness to the scarf, making it truly stand out. The shimmering beads catch the light as you move, adding a subtle sparkle to your look and drawing attention to your impeccable sense of style.
Each Pashmina Beaded Fringe Scarf is a testament to the rich craftsmanship and artistry that goes into its creation. Our dedicated artisans pour their expertise and passion into every intricate detail, ensuring that each scarf is a true work of art. The result is a scarf that not only keeps you warm, but also elevates your style to new heights.
Not only does our Pashmina Beaded Fringe Scarf offer an impeccable aesthetic, but it also provides a luxurious and cozy experience. Wrap yourself in its gentle embrace, and feel the indulgent comfort that only a high-quality scarf can provide.
Details Fringe Trim
Size Approx. 200cm x 47cm
Made in Nepal
Composition 70% Cashmere + 30% Silk Blend
Care Instructions Dry Clean Only
Regular price
$129.00 USD
Regular price
$172.00 USD
Sale price
$129.00 USD
Unit price
per
Sale
Sold out
Share
View full details of this offer here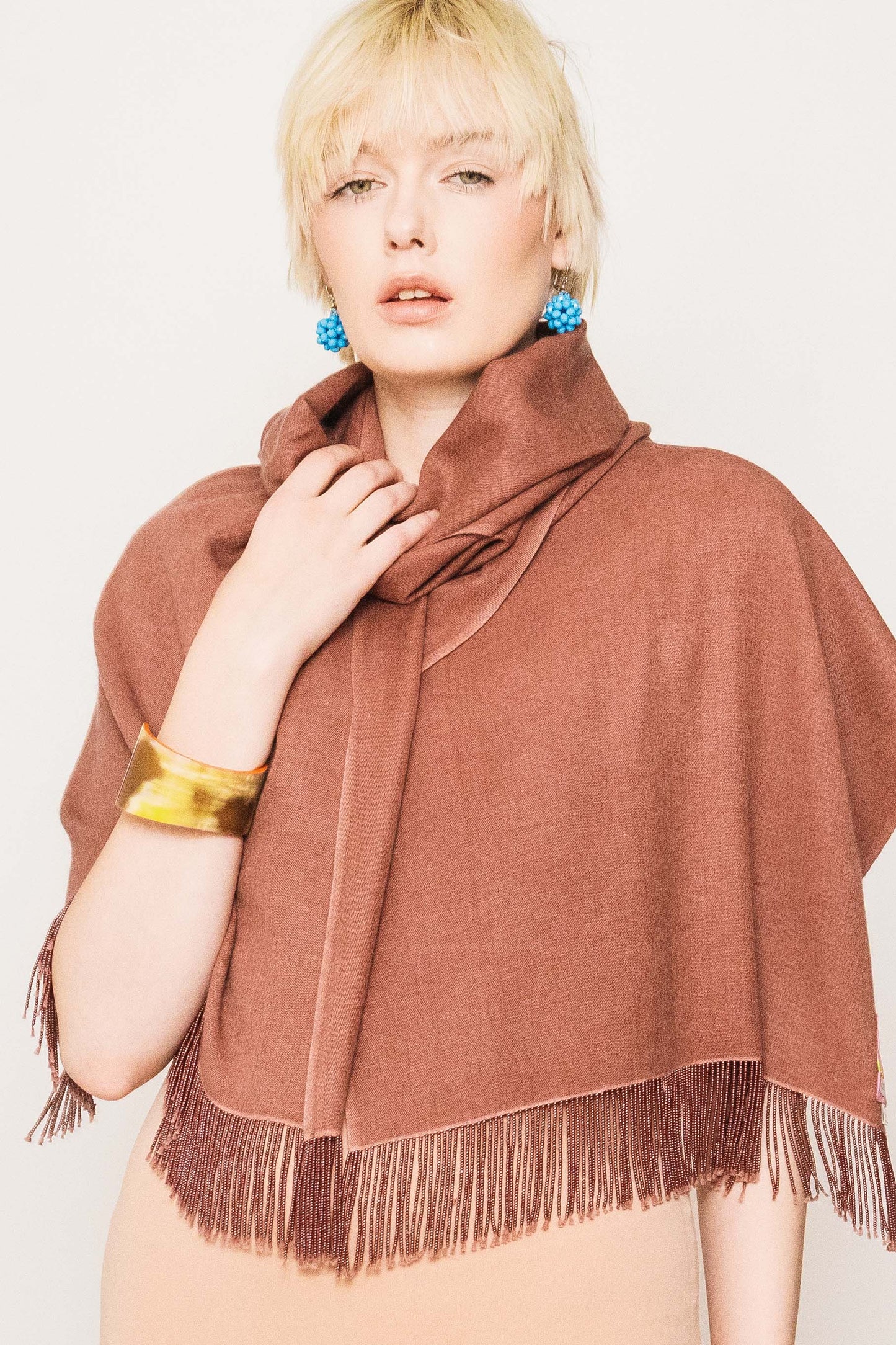 Other Accessories you may like...
Regular price

$224.00 USD

Regular price

$298.00 USD

Sale price

$224.00 USD

Unit price

per

Regular price

From $71.00 USD

Regular price

$95.00 USD

Sale price

From $71.00 USD

Unit price

per

Regular price

$95.00 USD

Sale price

$71.00 USD

Unit price

per

Regular price

$95.00 USD

Sale price

$71.00 USD

Unit price

per

Regular price

$156.00 USD

Regular price

$208.00 USD

Sale price

$156.00 USD

Unit price

per

Regular price

$111.00 USD

Regular price

$147.00 USD

Sale price

$111.00 USD

Unit price

per

Regular price

$280.00 USD

Regular price

$373.00 USD

Sale price

$280.00 USD

Unit price

per

Regular price

$95.00 USD

Sale price

$71.00 USD

Unit price

per

Regular price

$95.00 USD

Sale price

$71.00 USD

Unit price

per

Regular price

$95.00 USD

Sale price

$71.00 USD

Unit price

per

Regular price

$72.00 USD

Sale price

$51.00 USD

Unit price

per

Regular price

$72.00 USD

Sale price

$54.00 USD

Unit price

per

Regular price

$74.00 USD

Sale price

$56.00 USD

Unit price

per

Regular price

$95.00 USD

Sale price

$71.00 USD

Unit price

per