Product Description
Crafted from 100% silk, this scarf offers the epitome of luxury and indulgence. The natural lustre of the silk fabric adds a touch of sophistication to any ensemble, while its soft and lightweight texture provides a gentle caress against your skin. This exquisite Hand Stitched Kantha Silk Scarf is a true masterpiece that exudes luxurious elegance.
This beautiful scarf is a testament to the skilled and ancient craftsmanship, full of attention to detail. Each scarf is lovingly handstitched, making it reversible and showcasing its exceptional beauty from both sides. The meticulous hand quilting, adorned with exquisite mantua embroidery, creates a stunning pattern of stitches that gracefully traverse the entire length of the scarf.

The generous size of approximately 50 cm by 200 cm allows for versatile styling options, whether you choose to drape it around your shoulders, adorn your hairstyle or wrap it around the handle of your favourite bag.

To maintain the pristine condition of this exceptional accessory, we recommend dry cleaning. By following these care instructions, you can ensure that your Hand Stitched Kantha Silk Scarf retains its beauty for years to come, serving as a timeless addition to your wardrobe. Elevate your style and experience true luxury with this handcrafted masterpiece.

Details Silk - Reversible - Hand Stitched - Hand Dyed
Size approx 50 cm by 200 cm
Composition 100% Silk
Care Instructions Dry Clean

Regular price
$111.00 USD
Regular price
$147.00 USD
Sale price
$111.00 USD
Unit price
per
Sale
Sold out
Share
View full details of this offer here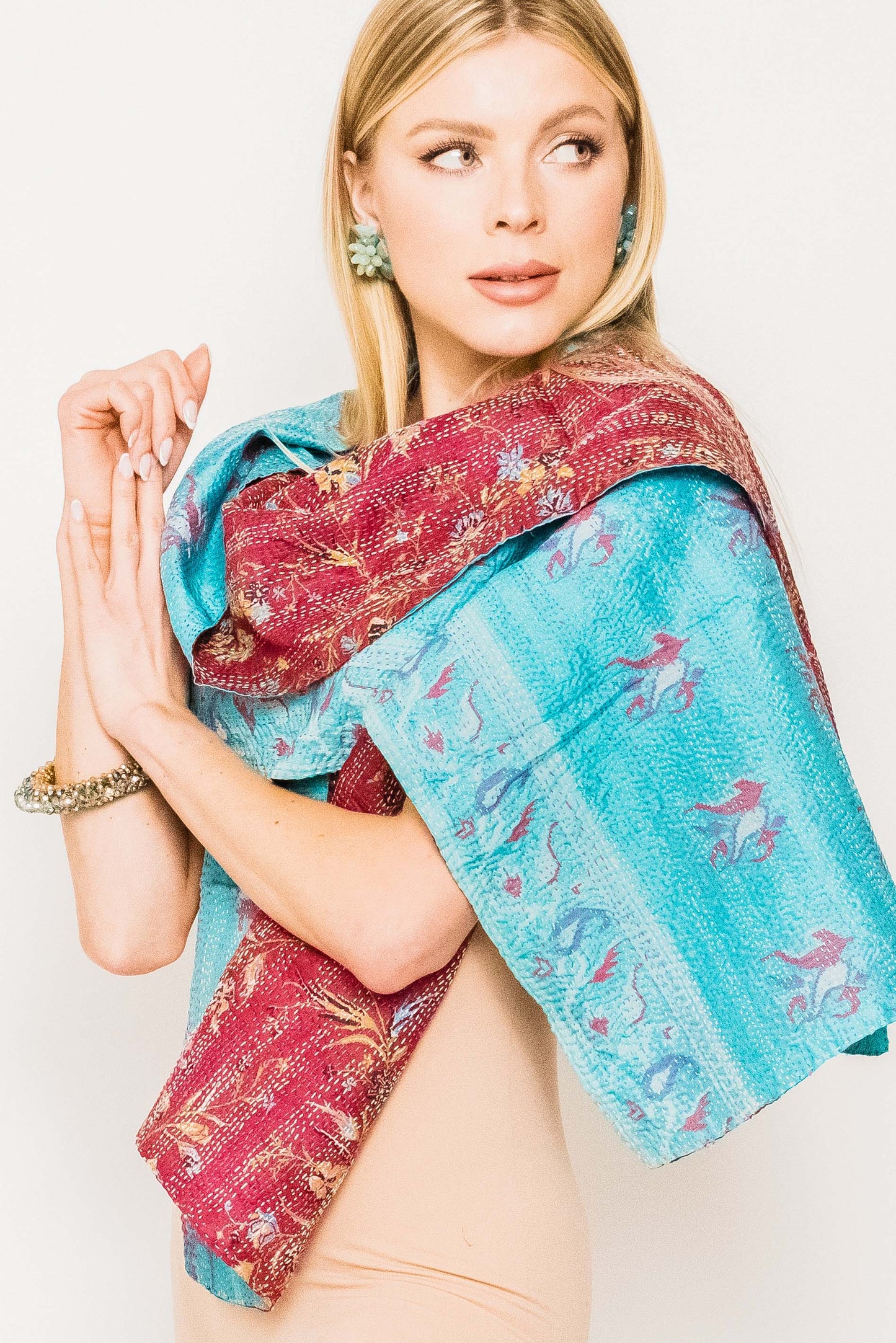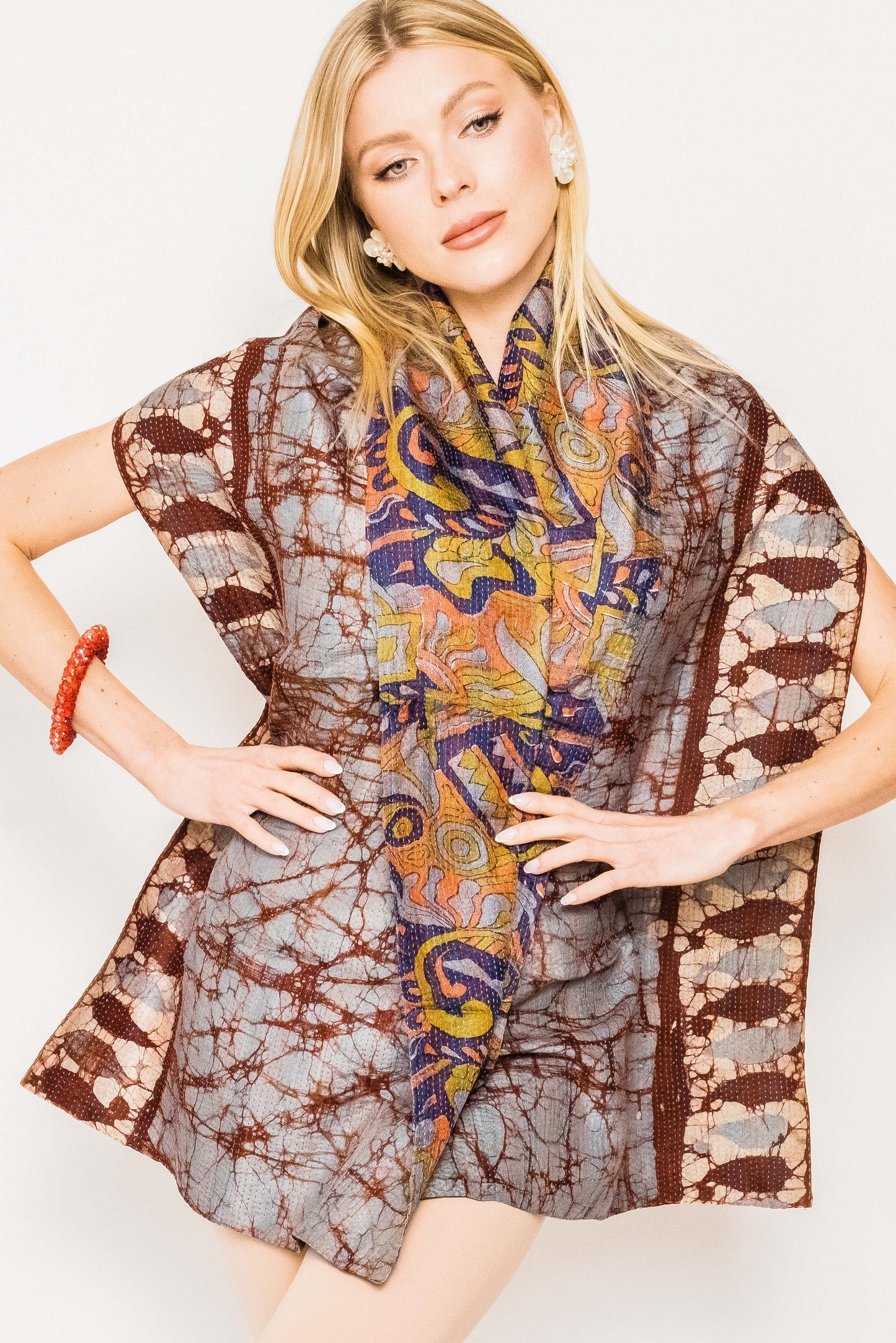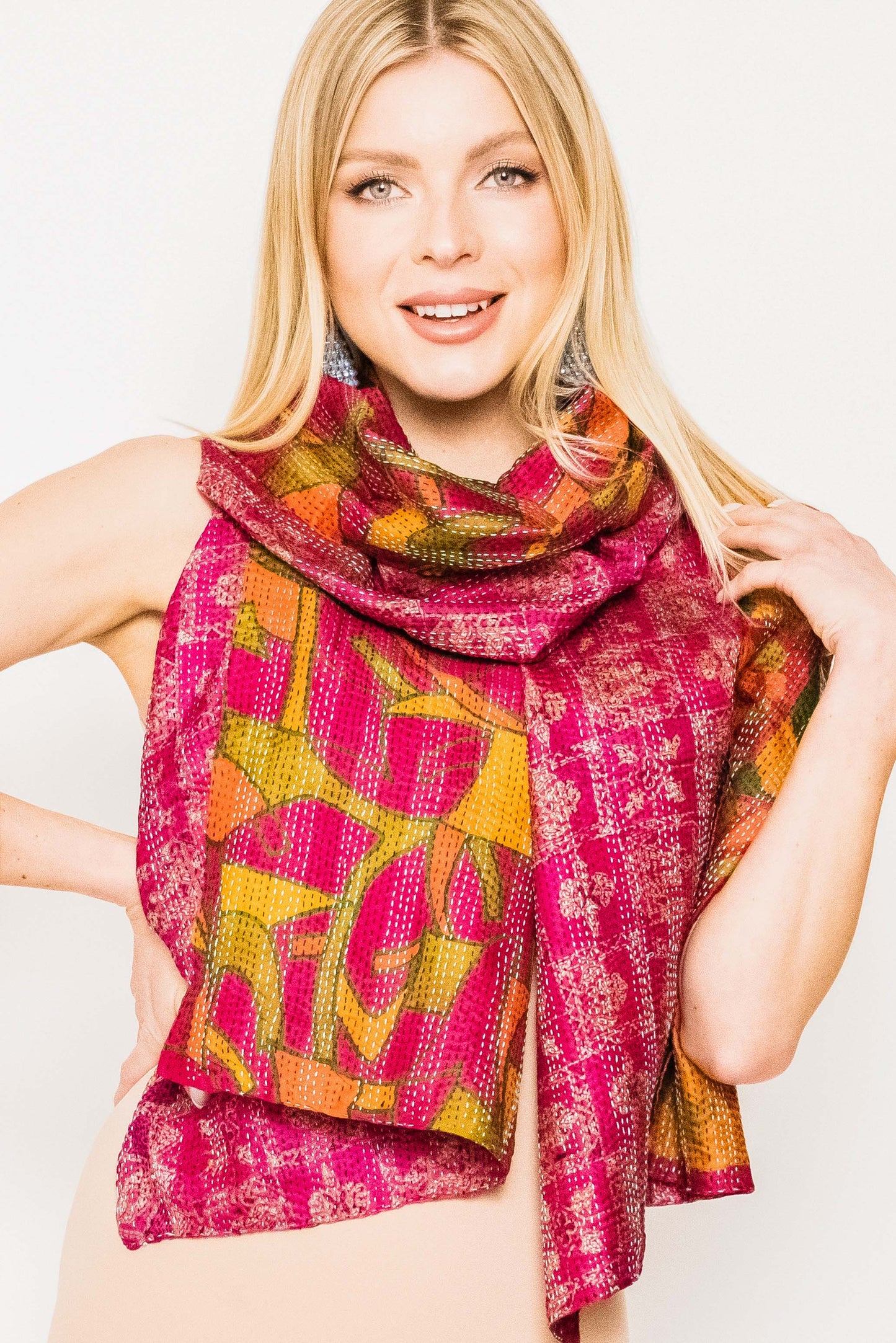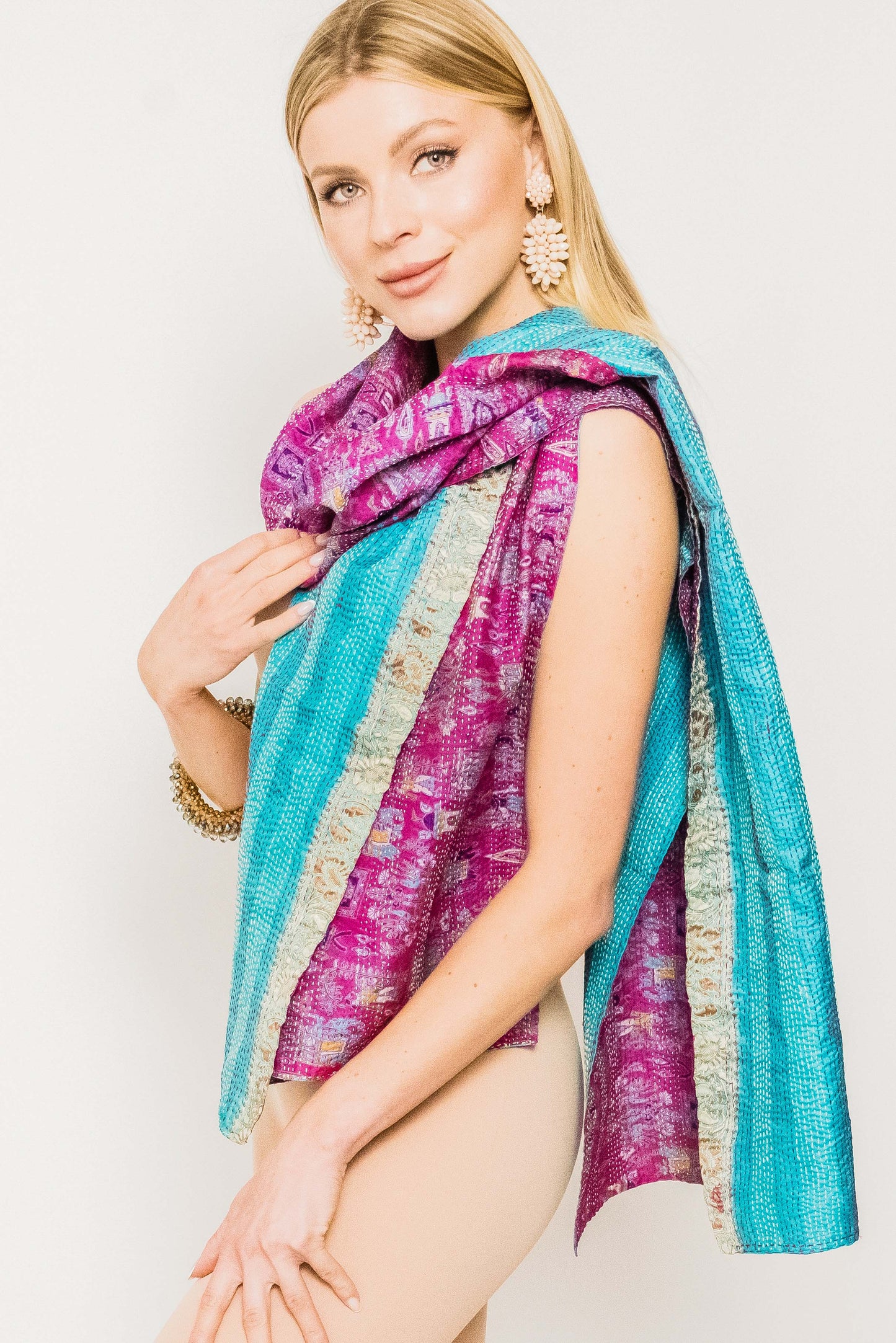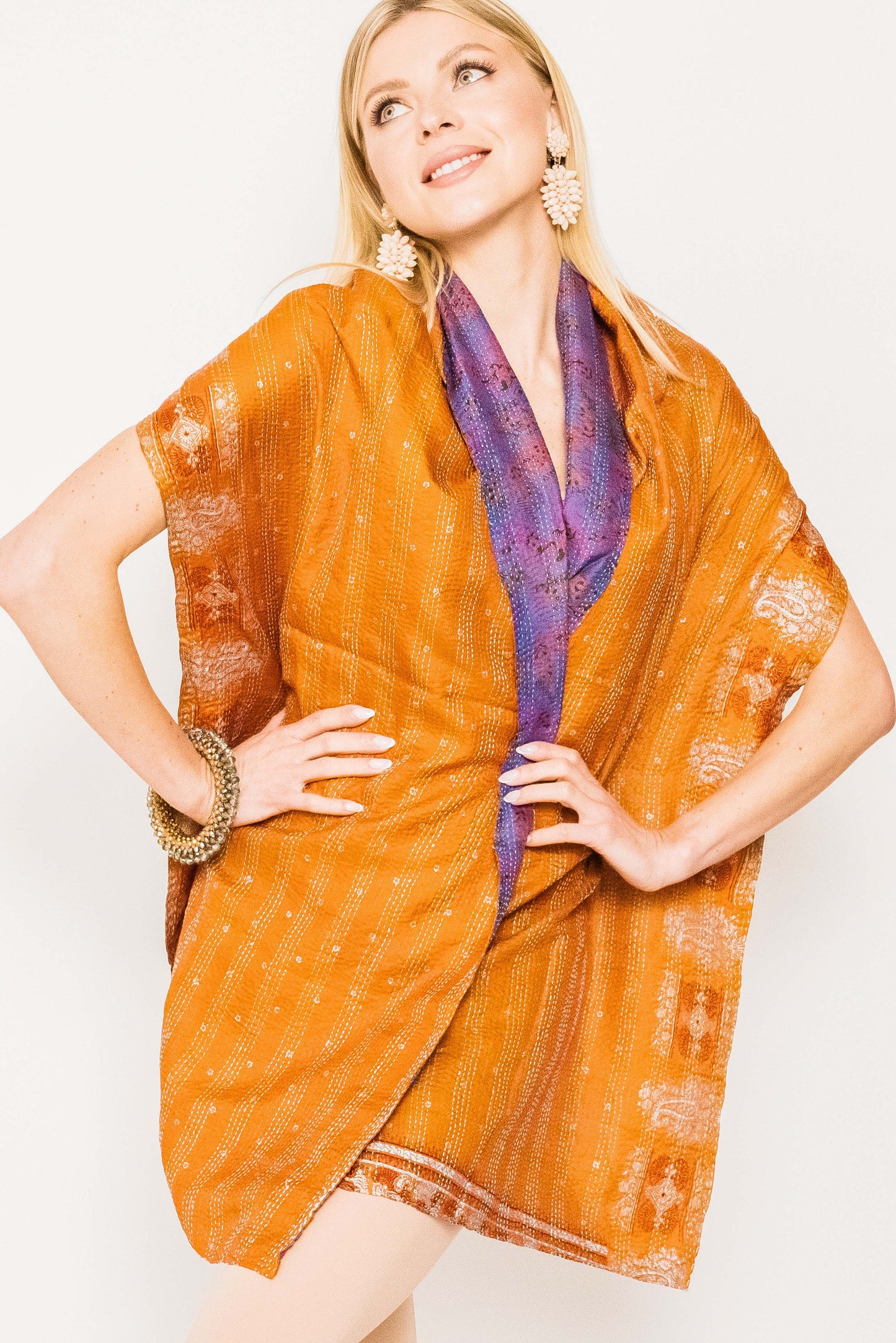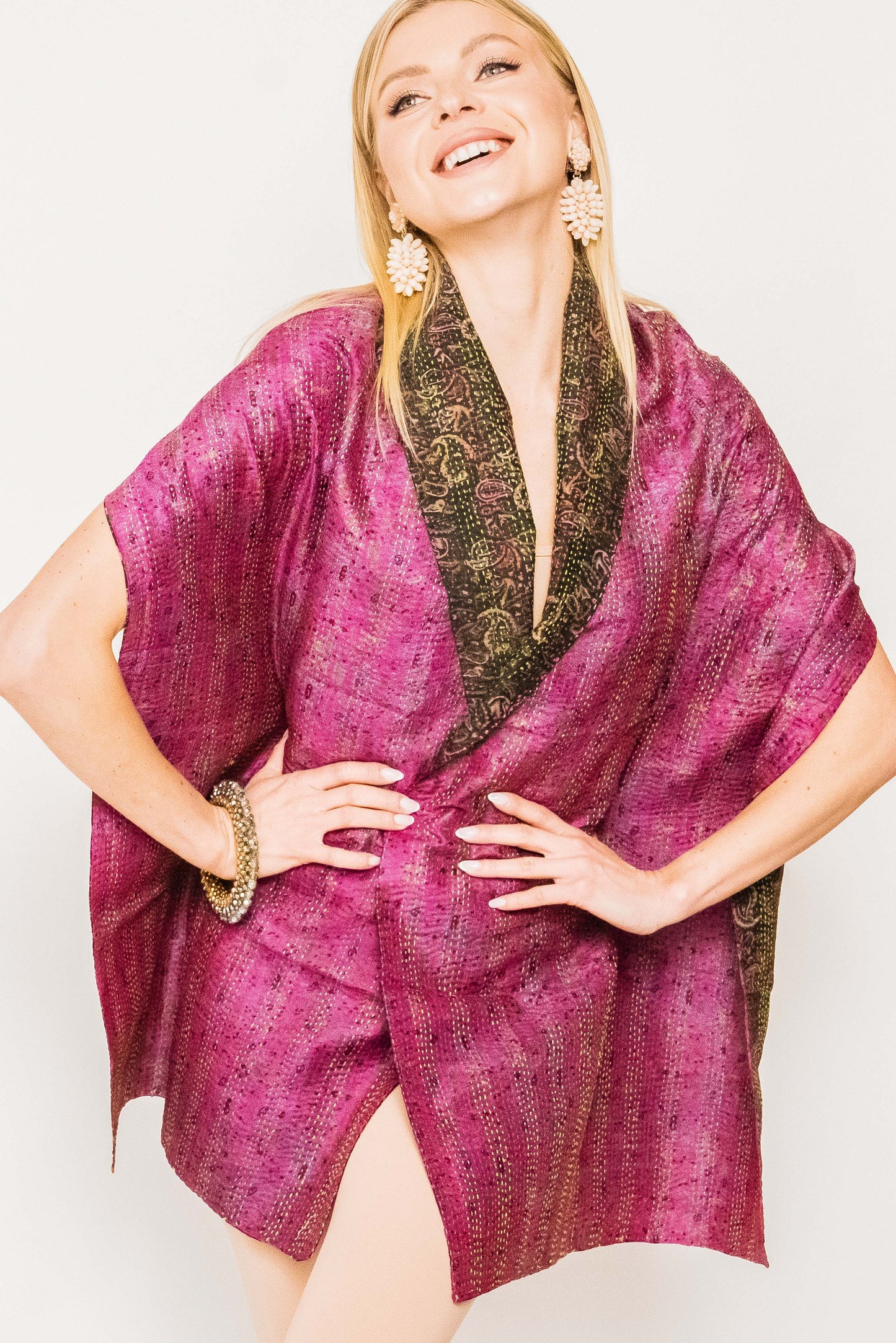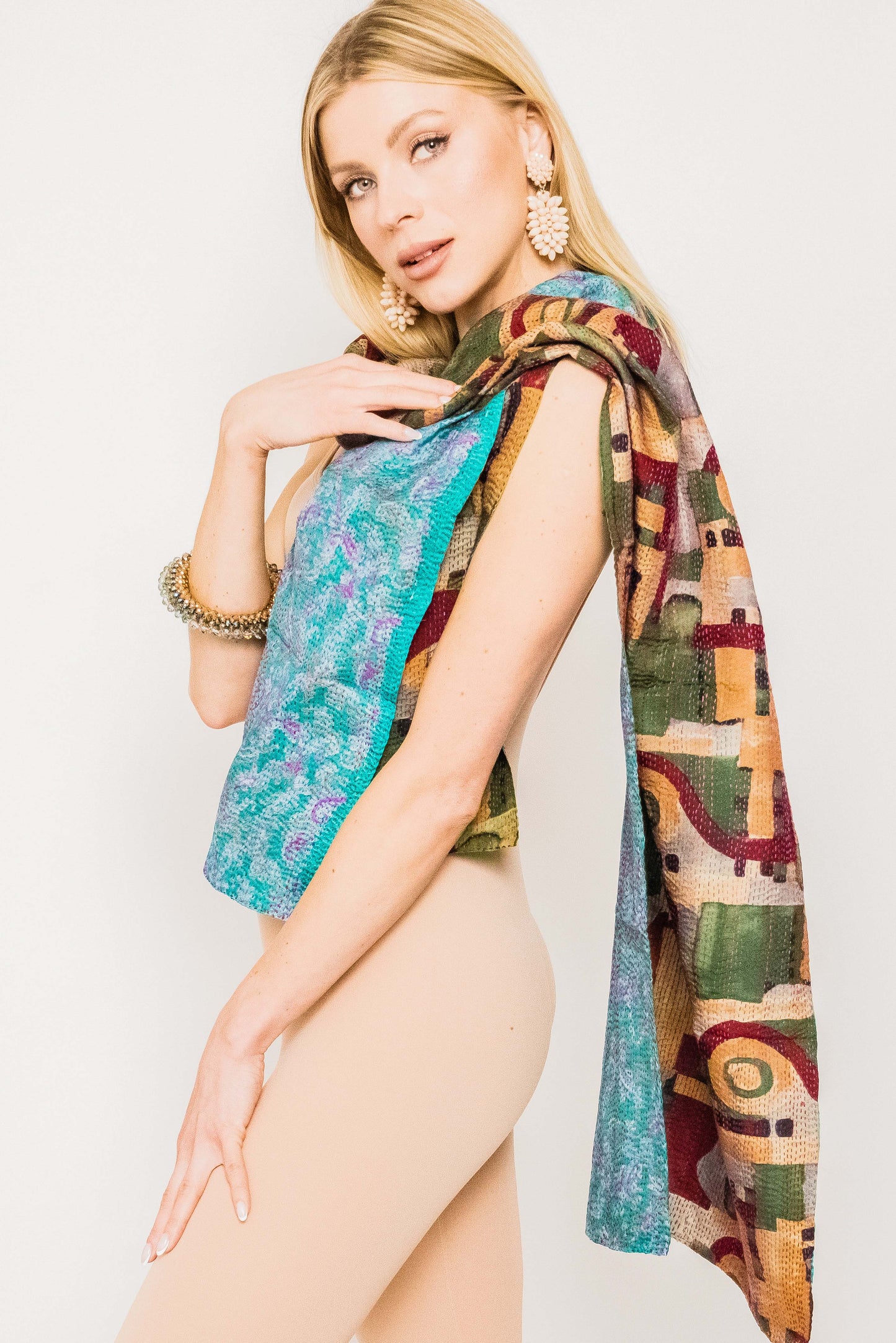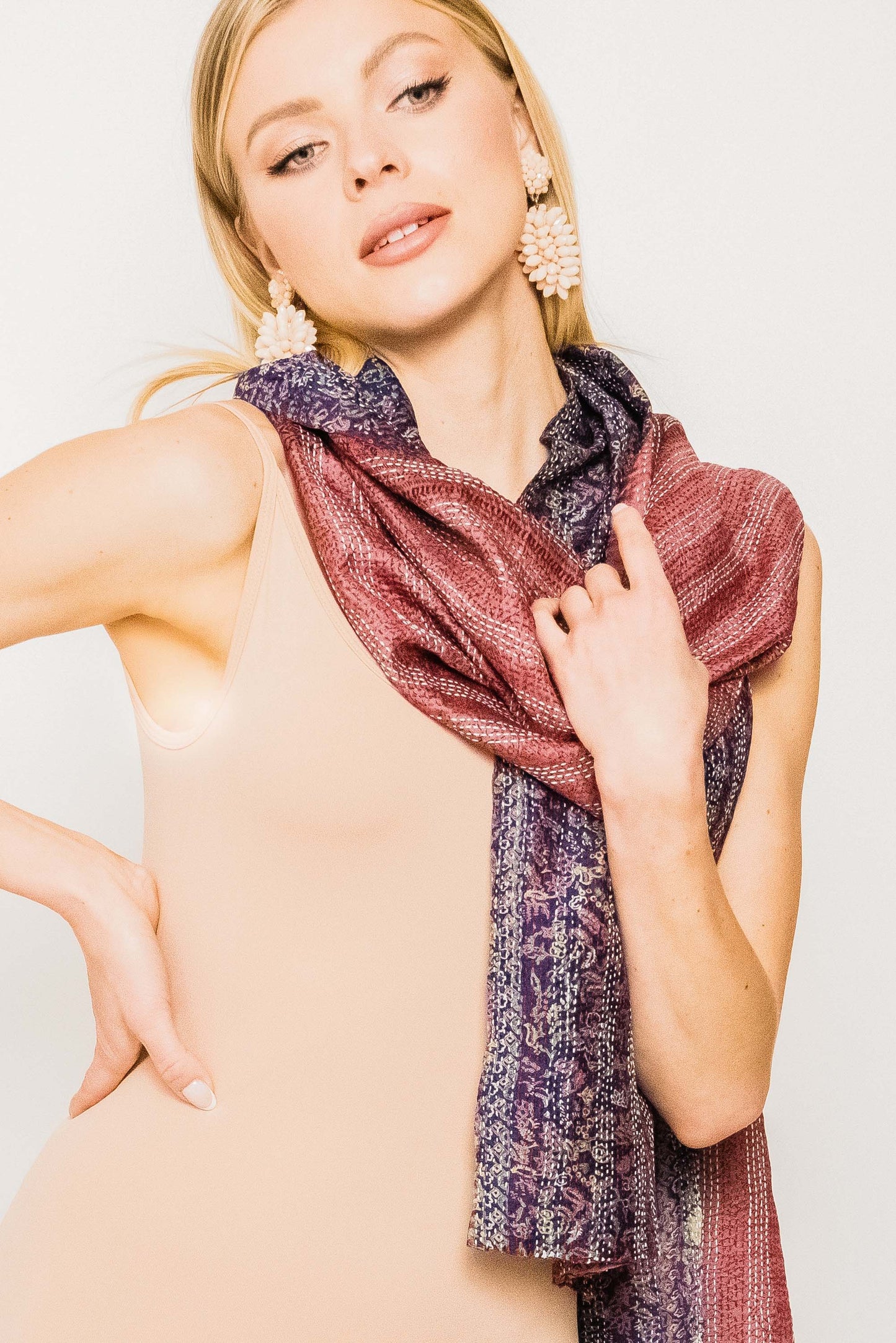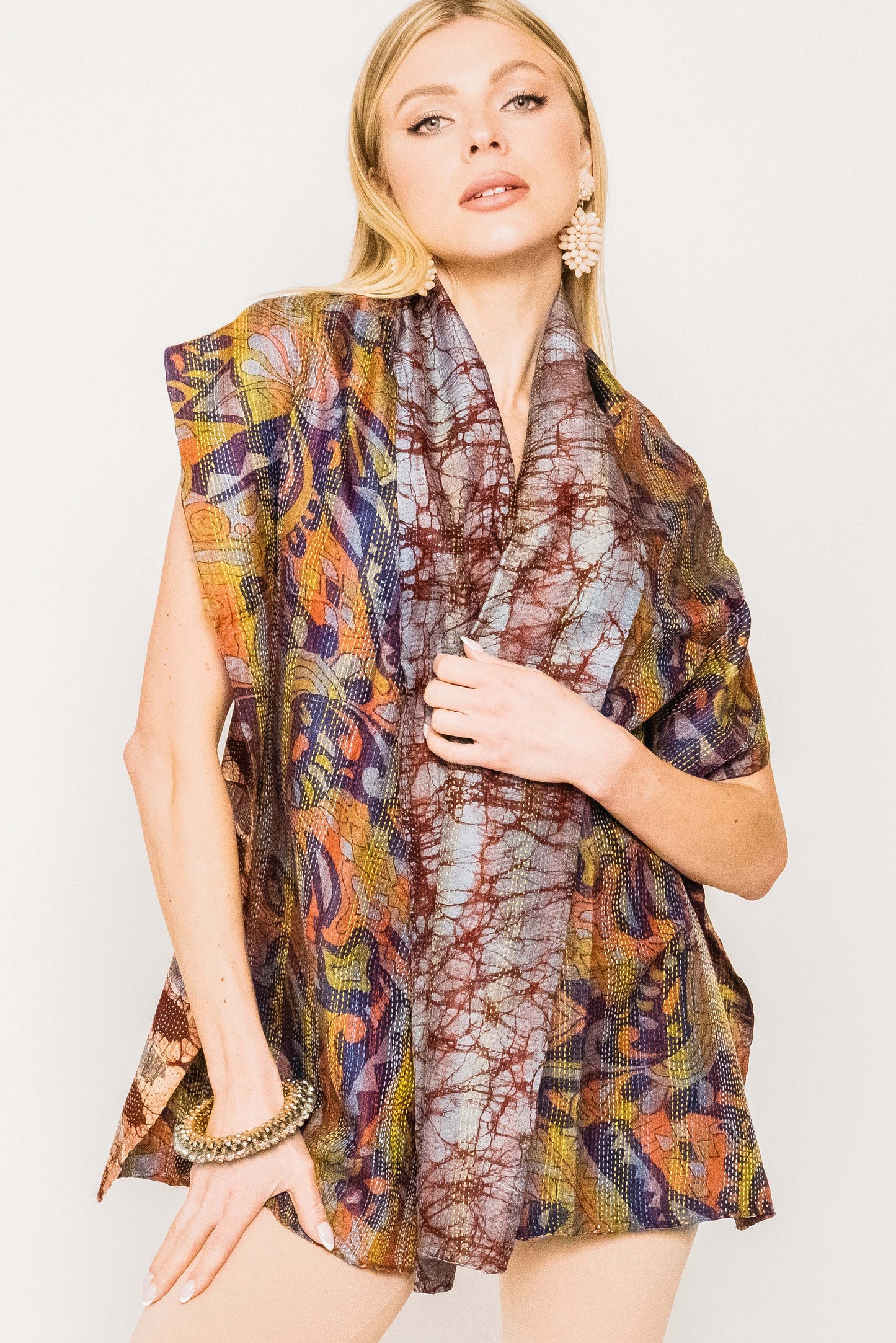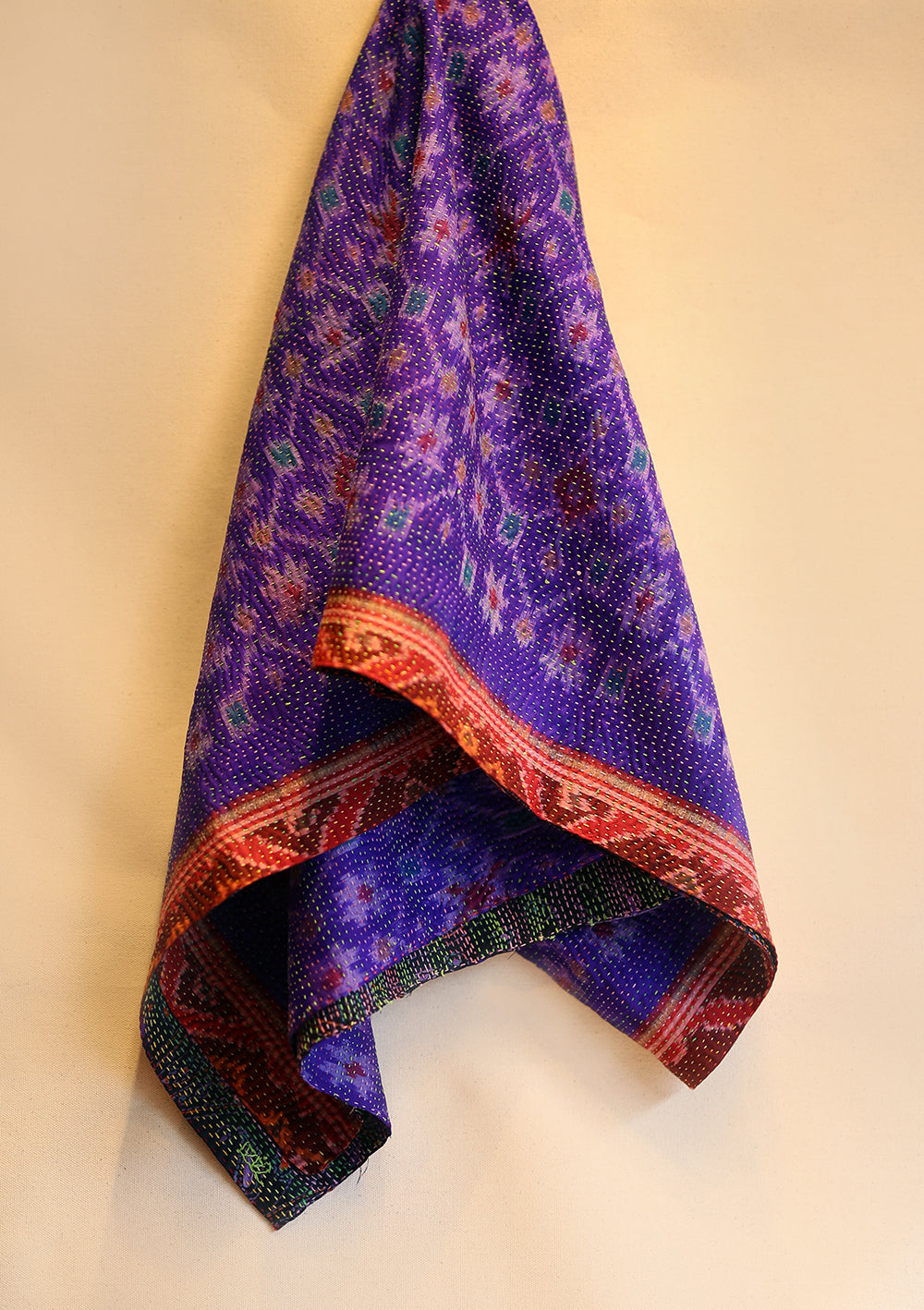 Other Accessories you may like...
Regular price

$224.00 USD

Regular price

$298.00 USD

Sale price

$224.00 USD

Unit price

per

Regular price

From $71.00 USD

Regular price

$95.00 USD

Sale price

From $71.00 USD

Unit price

per

Regular price

$95.00 USD

Sale price

$71.00 USD

Unit price

per

Regular price

$95.00 USD

Sale price

$71.00 USD

Unit price

per

Regular price

$156.00 USD

Regular price

$208.00 USD

Sale price

$156.00 USD

Unit price

per

Regular price

$111.00 USD

Regular price

$147.00 USD

Sale price

$111.00 USD

Unit price

per

Regular price

$280.00 USD

Regular price

$373.00 USD

Sale price

$280.00 USD

Unit price

per

Regular price

$95.00 USD

Sale price

$71.00 USD

Unit price

per

Regular price

$95.00 USD

Sale price

$71.00 USD

Unit price

per

Regular price

$95.00 USD

Sale price

$71.00 USD

Unit price

per

Regular price

$72.00 USD

Sale price

$51.00 USD

Unit price

per

Regular price

$72.00 USD

Sale price

$54.00 USD

Unit price

per

Regular price

$74.00 USD

Sale price

$56.00 USD

Unit price

per

Regular price

$95.00 USD

Sale price

$71.00 USD

Unit price

per