Product Description
Our exquisite Silk Floral Tunic is a harmonious blend of luxury and style that embodies elegance. Crafted from 100% pure silk, this tunic showcases beautifully the opulence and unmatched softness that only silk can offer.

The ethereal touch of silk against your skin is an experience that transcends ordinary fabrics. The rich, smooth texture of silk glides effortlessly and drapes beautifully, ensuring a luxurious and comfortable wear. The free size design embraces versatility, providing a flattering fit for all body types.

Adorned with vibrant and captivating floral patterns in bold, enchanting hues, our Silk Floral Tunic adds a touch of sophistication to your day. The loose-fitting design not only exudes a relaxed charm but also allows for unrestricted movement, making it a perfect choice for both casual outings and special occasions.

Whether paired with tailored trousers or worn over leggings, this tunic effortlessly elevates your style, turning heads wherever you go.
Revel in the sumptuous feel of silk against your skin and make a statement with the timeless elegance our Silk Floral Tunic will bring to your day.
Composition 100% silk 
Free size - Loose fitting
Regular price
$156.00 USD
Regular price
$208.00 USD
Sale price
$156.00 USD
Unit price
per
Sale
Sold out
Share on Social Media
View full details of this offer here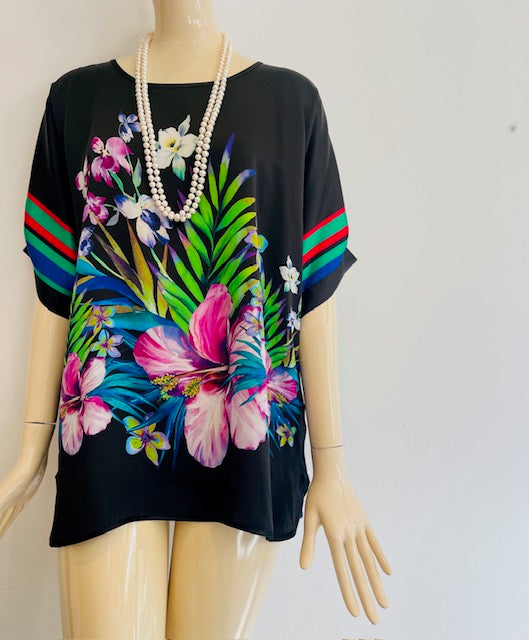 Would pair beautifully with....